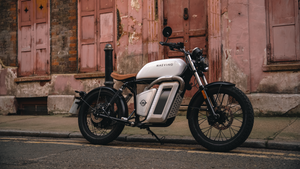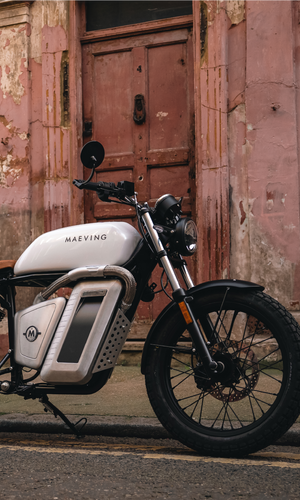 Inject the joy to your commute.
The Maeving RM1 is Britain's first electric motorcycle, perfected by a highly experienced team of British motorcycle engineers. Hand-built in Coventry, the U.K.'s motorcycle capital, the RM1 has more than a century's design heritage behind it.
Why the Rm1
Those joining the move to electric have more choice than ever before. However, e-bikes and e-scooters lack speed and versatility; and electric cars (for reasons ranging from finance to lifestyle) are simply not a viable option for many. In terms of electric motorcycles, what's available has been either eye-wateringly expensive and unnecessarily complicated, or cheaply built, unwieldy, and devoid of character. Until now. The electric Maeving RM1 hits the sweet spot between affordability and quality. It provides reliable, zero-emissions personal transport that's purpose-built for life in the city
CHARGE THE BATTERY, NOT THE BIKE
Our charging system is unparalleled in simplicity and convenience. The RM1 is powered by a fully removable, custom-designed Maeving battery that can be charged at any regular 3-pin plug socket. With limitless charging opportunities, you're able to put range anxiety behind you. Reliance on still underdeveloped charging infrastructure, the financial and spacial requirements of installing at-home EV charging facilities – these are the main barriers to owning electric, and we've removed them entirely.

The RM1 makes powering your commute as easy as charging a laptop. Simply slide the battery out of the bike, take it inside, and lower it onto the charger. To get from 0% to fully charged takes under four hours.
Engineered for practicality
The size, weight, and power of the Maeving battery have been optimised for the urban environment, meeting all your speed and range requirements whilst being easily transportable. We designed the RM1 to operate using either a single battery (up to 40 miles of range) or two batteries running in parallel (doubling the range to up to 80 miles). Our unique drop-in connection system means inserting or removing a battery happens in one smooth motion. Once in its compartment with the hatch closed, it connects automatically. No fiddling with cables or wires.

When a second battery is not in use, the top storage trunk provides 11 litres of weatherproof, lockable storage space and a USB-C port for safe charging while you ride. Both battery housing compartments are electronically actuated for quick and secure access at the touch of a button.
Easy to Ride
The RM1 makes motorcycling stress-free and accessible. It's a simple twist-and-go, so you don't have to worry about gears, a clutch, or a foot break. This makes it an ideal first bike for the novice and a fun run-around for the more experienced. As a 125cc electric equivalent, all that's required to ride the RM1 is a CBT (Compulsory Basic Training) license. This only takes half a day to complete and is a lesson in how to be safe and confident on the road rather than a test.

Lighter and slimmer than most in its category and weighing only 111kg, it's also easy to handle. The riding position feels natural and provides maximum control: not too far forward, not too far back, not at all top heavy. With adjustable rear suspension, a slim build, and a seat height of 785mm, it's a comfortable fit for a wide variety of riders.

The torque has been fine-tuned for navigating urban spaces. Gentle off the mark, it allows for precision when manoeuvring into a parking spot or through traffic. It then picks up at around 10 mph, just when you need a kick for overtaking and weaving amongst other vehicles.
Easy to Own
The RM1 is propelled by a single moving part: a next-generation Bosch hub motor. A major advantage of this mechanism is that it requires minimal maintenance. No oil, no chains, no petrol, no mess ­– just an electric motor produced by one of the most highly regarded manufacturers in the world.

The RM1 comes with a 2-year unlimited mileage vehicle warranty, and a 3-year battery and drivetrain warranty. Add to this its high-quality parts and exceptional engineering, and you aren't likely to find another piece of kit that gives you as much peace of mind. Because we only sell directly to customers, you can bring any issues or queries straight to us rather than having to go through a third-party dealership. We also offer at-home servicing, conducted by our Maeving Workshop team.
Turn Heads. Wherever You Go.
We've extracted what we believe to be the best of over one hundred years of motorcycling design and adapted it for modern-day travel. The result? A uniquely stylish blend of heritage aesthetics and advanced battery technology, which sets the RM1 apart from both its electric and petrol counterparts.

The large, circular LED headlamp is reminiscent of mid-twentieth century motorcycles. A conduit containing key wiring has been fashioned to resemble the pipe that's such a defining characteristic of petrol engines. We've included what appears to be a petrol tank, but actually performs two key functions: it can either house a second battery, or (when a second battery is not in use) it provides ample secure storage space. Because it doesn't need to accommodate a large quantity of petrol, we've been able to keep this 'tank' slim and streamlined. The bike's steel frame draws on those of the original turn of the century motorcycles, retaining the distinctive geometric lines, but with added integrated suspension. The seat, too, is influenced by this era of motorcycling. Single-person 'bobber' seats are particularly beautiful, but to ensure a truly comfortable ride, ours is slightly wider and has been meticulously hand-molded.

The look of the RM1 has also been informed by a real focus on longevity. We've used premium materials rather than relying on cheap plastic, which also works to retain the level of finish seen on contemporary heritage motorcycles. Most notable are the central brushed aluminium housings – a celebration of the fact that this bike is electric, rather than trying to hide it.
Kind to the environment
The electric Maeving RM1 makes zero-emissions personal transport accessible and desirable, something crucial to transforming our cities into cleaner, quieter, and healthier places to live. We all need to do our bit towards mitigating the impact of the transport sector on climate change. Using the RM1 for commuting is an opportunity to do so. One that doesn't compromise on quality. One that brings joy, not complications.
Economical Commute
The Maeving RM1 is an affordable quality electric motorcycle. Take into account its expert engineering and the fact that it's designed and produced in the UK, and the price tag begins to look even more impressive.

In terms of running costs, you'd be hard pressed to find an alternative that gives you so much flexibility at such little expense. To fully chargeour custom Maevingbattery takes under four hours... and costs just 56 cents.On a full charge, you can travel up to 64 kilometres. The Maeving RM1 can accommodate two batteries, which gives you a total of up to 128 kilometres. This makes our bike one of the most economical modes of transport out there, substantially cheaper than travelling by car or public transport.

With its top-of-the-range Bosch hub motor and expert engineering, our motorcycle requires minimal maintenance, especially in comparison to a petrol bike. Minimal maintenance means substantially decreased running expenses. Using an RM1 for your commute won't cost you a fortune – and it won't cost the earth.