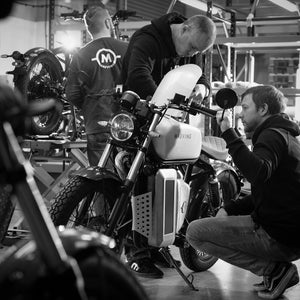 Our Mission
At Maeving we are driven by two things: the desire to make the best electric motorcycles possible, and the belief that this is most readily achieved by harnessing Britain's heritage in motorcycle engineering.

Our product team earned their stripes among the ranks of the great British motorcycle manufacturers and, with over a century of experience between them, have been responsible for some of the most revered bikes on the road today.

Add to that a determination to do right by the planet by drawing more riders on to zero-emission transport, and a move away from motorcycle dealerships towards doorstep delivery and servicing, and you have a movement that can be summed up by one word: progress.
Style Meets Progress
We have the desire to progress.

To change the way the world moves for the better. For us, that means Electric motorcycles.

The kind of bikes that are so captivating, you'd want one even if petrol cost nothing. A unique marriage of classic British engineering and the finest electrical innovation.

Hand built in Coventry - the home of British Motorcycling. Breath-taking machines that balance raw appeal with tomorrow's technology.

To bring the freedom and passion of Motorcycling to more people. Growing a new community of riders who respect the past and the future.

The road ahead looks good on a Maeving.
Born in the Midlands
At Maeving, we design and build our motorcycles in Coventry, UK.

To those in the know, Coventry, and the Midlands more generally, are the beating heart of the British motorcycle industry. BSA, Norton, Royal Enfield and Triumph are some of the best-known examples of fantastic British motorcycle companies with their roots in the Midlands.

The very first practical motorcycle in the UK was made right here in Coventry, by Humber Motorcycles, and the first recorded motorcycle race on a track took place here too. A whopping 48 motorcycle companies over the past 100+ years had their base in Coventry and the Midlands, representing a glorious heritage for this region.

We're so proud to have opened a new chapter in the vibrant story of Midlands motorcycling at Maeving.