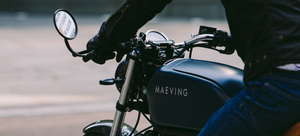 If you are totally new to motorcycling, knowing where to start can seem overwhelming. Fear not, we are here to help. On this page, we provide a breakdown of the steps to take...

And a list of the things you don't have to worry about!
First
The Right Licence
To ride a Maeving, you'll need a CBT (Compulsory Basic Training) certificate or higher. This is a one-day training course to ensure you can adequately control a motorcycle and ride safely on your own – similar to a car learner's licence.
Second
EASY RIDER
We believe motorcycling should be accessible to everyone, from first-time riders to experienced bikers. With no gears, you'll only need to twist the throttle to get moving. Riding the Maeving RM1 is so simple it can't be anything but fun.
Third
Keeping Safe
Riding a motorcycle for the first time can feel daunting. With a top speed of 45mph, the Maeving RM1 is designed to make you feel safe and in control. We believe excellence is peace of mind. The Dunlop Gold Seal tyres provide specialised traction which you can only expect from one of the world's most respected manufacturers, while the linked brakes ensure effective stopping in a range of environments.