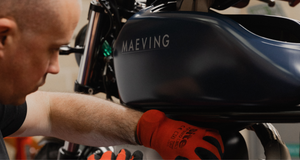 We set out to build a business that changes the way people travel. With the climate crisis intensifying, quality of life in urban areas deteriorating, and commuters moving away from crowded public transport to modes of personal transport, there is an urgency to produce desirable emissions-free alternatives.

We believe motorcycles are the best urban vehicles for most people: faster, safer, and able to cover more ground than bicycles, e-bikes and e-scooters, and suitable for individuals for whom a car doesn't make sense. We realised there was a gap in the EV market for an entirely new type of urban vehicle, one that has the potential to radically transform our cities and reduce the effects of climate change: a fully electric motorcycle that is practical, beautiful, and well-priced.
Impeccable Engineering
The fully removable Maeving battery is easy to transport, connects automatically, and can be charged at any regular UK 3-pin plug socket, features that set our motorcycle apart from its competitors. Every aspect of a Maeving motorcycle centres around this concept. Drawing on the incredible recent innovations in removable battery technology, we designed and engineered our own battery to meet our standard for quality, usability, efficiency, and aesthetic appeal.

Our electric motorbikes are the creations of an in-house team of highly skilled British motorcycle engineers, who between them have over 50 years of experience and are responsible for some of the Britain's greatest motorcycles.
We're Proudly British
We are incredibly proud to be the UK's first electric motorcycle, based in the Midlands and inspired by a rich motorcycle design heritage that spans over a century. Rather than outsourcing the manufacturing of our bikes, every single one is hand-assembled at our Maeving headquarters in Coventry, the heartland of British motorcycling. In addition, roughly 65% of our parts are sourced from the UK – more than any other motorcycle manufacturer. Maeving truly is a British brand with a British product.
We Deal Direct
Our business model is an industry-first: we are a Direct-to-Consumer manufacturer, meaning we sell our bikes directly to customers and deliver right to their door. No more reliance on dealerships. Our motorcycles are available to order via our website. You can even place an order over the phone if you prefer.

Excellent customer service is at the core of our business. We have a friendly and knowledgeable in-house customer support team who are able to provide any assistance you may need. They are available every weekday between 9AM and 5PM and respond to after-hours contacts on the very next working day.
We're Passionate Bikers
At Maeving, we love motorcycles, and we love what they have to offer in terms of an improved quality of life. Our focus is therefore on the needs of the rider (in particular, needs specific to travelling in an urban environment). We're not concerned with unnecessary, showy features or superfluous specs. Unlike most mainstream manufacturers, we prioritse practicality, affordability, and accessibility. That's why we've made our bikes easy to charge, simple to operate, light and manoeuvrable, and, most importantly, a joy to ride.

We know the bliss of moving seamlessly through a city, the feeling of liberation as you travel door-to-door, in charge of your own schedule. It's our mission to make this available to as many people as possible. With user-friendly features that satisfy the numerous demands of city life, Maeving appeal to a uniquely wide range of motorcyclists: from the complete novice to the uber experienced.
We Know Heritage
We believe electric motorcycles should be an additive to the world of motorcycling, not a challenge to it. With this vision front of mind, we designed our bikes to generate a fantastic user experience, whilst retaining all of the classic design cues that make motorcycles so appealing. This currently unmatched marriage of cutting-edge technology and traditional automotive design techniques sets our motorbikes apart from the rest of the market, as a highly desirable EVs that you would want to ride even if petrol cost nothing.

Favouring elegant, clean styling and quality of finish, we make motorcycles that are as beautiful as they are functional. They are a celebration of craftsmanship, and we have refined every detail: from the circular LED headlight to the analogue speedometer, from the bar-end mirrors to the clutter-free handlebars, from the pleasing lines of the frame to the carefully proportioned body. Even the batteries are a sight to behold, with their brushed aluminium casing and smoothly integrated carry-handles.
We Keep It Convenient
With a Maeving, zero emissions doesn't mean compromising on comfort or ease. In striving to fulfill this mandate, Maeving has achieved a number of "firsts" in the motorcycle industry.

We have developed a Dual Battery Control Module that allows the RM1 to engage either a single battery, or two batteries running in parallel. The rider has the benefit of choice, either travelling on a single battery, giving them up to 40 miles of range, or using two batteries to double the range to up to 80 miles. We have also developed the first drop-in connector, which connects the batteries automatically when inserted into the RM1. No hassle from connection cables or fiddly attachments.

With a redesigned side-battery compartment, the Maeving RM1S allows two batteries to stack on top of each other horizontally, freeing up the tank as 10L of secure of storage as standard. Further, with a next-generation drivetrain that delivers more than twice the power of the RM1, our second motorcycle allows riders to reach a highway-capable top speed of 65mph, meaning it's perfect for those who need to travel across A-roads or short stretches of motorways on their commute.

One of the key advantages of riding a motorcycle is being able to weave through traffic. Our design optimises for effortless overtaking and skipping to the head of the queue. Our motorcycles are lightweight and easy to handle, and the simple twist-and-go throttle gives gentle torque off the starting block, allowing for maximum control when moving amongst other vehicles on the road.
Financial Accessibility
We want owning an electric vehicle to be an attainable reality for as wide an audience as possible. Many electric motorcycles on the market are either prohibitively expensive on the one hand or marred by substandard engineering and parts on the other. So, we at Maeving distinguish ourselves by making electric motorcycles that are affordable without compromising on quality. Our custom-designed batteries, next-generation motors, superior-grade solid steel frames, minimalist controls and electrics are just some examples of how we've ensured that a Maeving is built to perform and built to last.

We also offer customers the option of purchasing on finance provided by Blackhorse Ltd. Our customer service team are available to attend to all finance-related queries, providing information and advice.
We Make Life Easy
Free delivery to the UK mainland is included in the price of all new Maeving motorcycles. Not only does our dedicated team deliver door-to-door, but they also demonstrate how to operate the bike and explain the basics of general care. We complete the bike registration, so it arrives road ready and rearing to go.

There's no need to deal with garages; upon request, we provide at-home servicing, conducted by our Maeving Workshop engineers and bookable directly through our website. There's also no need to worry about repairs and maintenance; the RM1 comes with a 3-year battery and drivetrain warranty and a 2-year vehicle warranty.
We Are Maeving. We Make Progress.