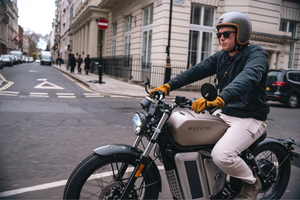 The licensing system in the UK can seem confusing. But fear not, Maeving are here to help.
What's a CBT?
A CBT is a certificate of 'Compulsory Basic Training', granted to you after a one-day course in basic motorcycle riding. The training ensures you can ride safely on your own and that you have control of a motorcycle. It can be thought of as a 'learner's licence'.
Who Needs a CBT?
If you do not hold a full motorcycle licence, you will be required to get a CBT to ride the Maeving RM1, as it is the electric equivalent of a 125cc.

If you have held a full driver's licence since before 2001, you still need a CBT in order to ride the full powered Maeving RM1.
Booking Your CBT
There's testing centres all over the UK where you can complete your CBT. For great nationwide coverage, we recommend RideTo.

To make a fun day of it, why not book with a friend? Going with some company can ease the feeling of uncertainty and make the day more enjoyable. Plus, there's nothing like zipping through the streets with a friend.
Technically, you can't fail a CBT, but you may be asked to re-book in order to undergo further instruction before you are awarded your CBT licence. This is rare as the session is meant to be a training day and not a test.
A CBT costs £140 - £200. The precise amount will depend on where you book and whether or not you take your own gear.